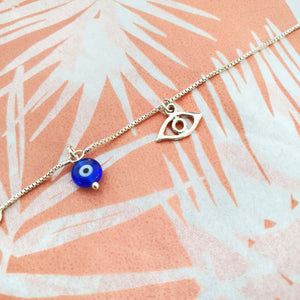 Double Eye Bracelet
FREE shipping on orders over R950
---
---
Metal Options
Sterling silver eye on a sterling silver chain
Brass eye on a sterling silver chain
Product Information
The belief in the Evil Eye dates back almost 3,000 years to ancient Greece and Rome. It is one of the strongest symbolic images in the world.
Wearing an 'Evil Eye' or 'Mati' as it's called in Greek culture as an amulet is believed to provide protection against evil forces and anyone who wishes you harm. The Mati has symbolism in many countries and religions - such as; Judaism, Islam, Hindu, Buddhism and Christianity.
Metal eye charm & navy glass eye bead charm
The metal eye charm can move along the bracelet whereas the glass eye bead charm is in a fixed position on the bracelet.
Eye length: +-7mm
Bracelet chain may vary depending on stock availability, if you would like a specific bracelet chain kindly contact us before placing your order to see what bracelet chains are in stock.
Kindly select your bracelet size from the drop down menu above.
Manufacture
Please allow us 7 working days for manufacture before delivery.
---
We Also Recommend